Virgo – Zodiac Tote Bag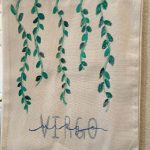 A tote bag is a large and often unfastened bag with parallel handles that emerge from the sides of its pouch. The word tote is probably African in origin and came into English via Gullah. Totes are often used as reusable shopping bags.
Gene Bag's tote bag is made to carry a heavy load and to last years of usage with its reinforced stress points. This multipurpose canvas tote bags comes in multiple color options and is ideal for school or office work, grocery shopping, a park of beach visit and other daily activities.